A medieval recorder


A number of more-or-less complete recorders dating from the the 14th centuries have survived. Amongst these, the so-called Dordrecht Recorder (from Holland), Tartu Recorder (Estonia) and Nysa Recorder (Poland), are most obviously characterised by their narrow, cylindrical bores. Another cylindrically bored medieval recorder has been found in the old Hanseatic city Elblag (Poland). Dating from the mid-15th century, this instrument is made of maple in one-piece 30 cm long and appears to have a vibrating air column of 27 cm.

Our choice for a recorder suitable for the medieval repertoire fell on a narrowly cylindrical model with a singular voicing inspired by the image of the two flutes painted by Francesco del Cossa in the Palazzo Schifanoia in Ferrara, dated 1470. The special feature of the voicing, documented in the painting, is the absence of the two sidewalls of the window; it gives a louder and bolder sound which is characterised by a marked attack or "chiff".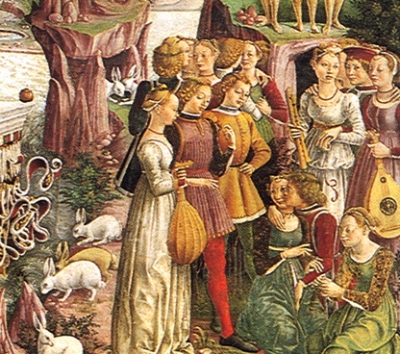 The splendid series of frescoes in the "salone dei mesi" in the Palazzo Schifanoia executed for the Duke Borso d 'Este around 1470, shows how important the music was in the court life of that period. Throughout the 1400-1500s Ferrara was one of the most important cities in terms of music. Living and working there were the greatest musicians of that time: Guillaume Dufay, Josquin Desprez, Antoine Brumel, Jacob Obrecht, Adrian Willeart, the brothers Dalla Viola, Nicola Vicentino, Cipriano de Rore, and others.
Audio clip: é necessario Adobe Flash Player (versione 9 o superiore) per riprodurre questa traccia audio. Scarica qui l'ultima versione. Devi inoltre avere attivato il JavaScript nel tuo browser.
O Pelligrina, o luce - Ensamble Micrologus - medieval recorder in F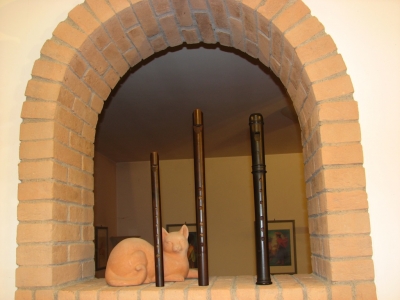 from the left: alto in F and tenor in C (a:523Hz), alto in F (a:392Hz)
dolciflauti