Ganassi recorders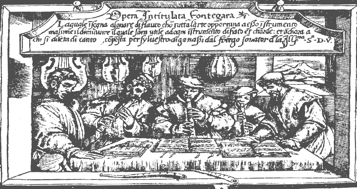 Audio clip: é necessario Adobe Flash Player (versione 9 o superiore) per riprodurre questa traccia audio. Scarica qui l'ultima versione. Devi inoltre avere attivato il JavaScript nel tuo browser.
Igno soave - Philippe Verdelot - CD "le siêcle du Titien" -  Resin Dadre (Doulce memoire) - G alto Ganassi
Silvestro Ganassi del Fontego was not an instrument maker himself but, in describing the fingering in his book "La Fontegara", he has linked his name to a particular kind of recorder.
The cylindrical-conical bore of the "Ganassi" recorder differs profoundly from all the other types of recorder having cylindrical bores (medieval and renaissance) or cylindrical-inverse conical bores (renaissance and baroque). It happens that only in the Ganassi model the harmonics of the fundamental note, obtained by over blowing without changing fingering, are in tune  with the fundamental itself and with each other. Thus, there are two broad groups of recorders: the Ganassi type and the non-Ganassi type, grouping in the first category  those instruments which employ special fingerings of this kind, and in the latter all the other type of recorders.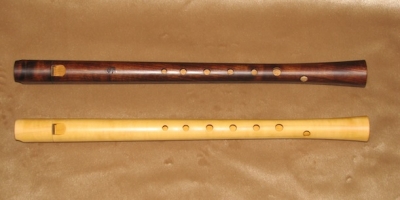 two G alto  in one piece (boxwood and maple)
Our Ganassi recorders are of two sizes, a soprano in C and an alto in G, both at 466, 440 or 415 Hz. Those in two parts can be equipped with multiple lower sections to enable playing at different pitches. They can be made in a single piece or in two parts, with or without brass ferrules,  tuned in equal or mean-tone temperament. The wood is usually boxwood for sopranos and maple for the altos. We also offer a "Gentle Ganassi" soprano with a narrower bore to facilitate production of the highest notes that, in the standard model, require more expertise to sound.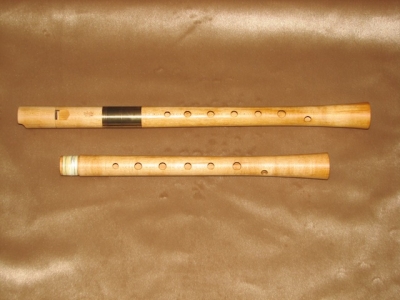 one G alto in two piece with two bodies (pitch 440 and 415)
Audio clip: é necessario Adobe Flash Player (versione 9 o superiore) per riprodurre questa traccia audio. Scarica qui l'ultima versione. Devi inoltre avere attivato il JavaScript nel tuo browser.
G.B.Fontana, Sonata Sesta - Maria De Martini - G alto Ganassi

Alto in G (maple)and sopran in C (boxwood)
dolciflauti