Rafi recorders

Aurore alkaa huomenna konsertilla Kummisetä Dufay! Illan aikana kuullaan muun muassa Guillaume Dufay'n haikeat jäähyväiset Laonin hyville viineille.Adieu ces bon vins de Lannoys,Adieu dames, adieu borgois,Adieu celle que tant amoye,Adieu toute playssante joye,Adieu tout compaignons galois.Jääkää hyvästi Laonin hyvät viinit,hyvästi naiset, hyvästi kaupunkilaiset,hyvästi hän jota rakastin niin paljon,Hyvästi kaikki miellyttävät ilot,hyvästi kaikki vanhat juomaveikotVideolla soittavien Petri Arvon ja Petros Paukkusen lisäksi kappaleessa esiintyvät myös laulu- ja soitinyhtye Sufira sekä altto David Hackston.Liput konsertteihin Lippupisteestä http://lippu.fi/renesanssimusiikkijuhlat tai tai tuntia ennen ovelta.Tervetuloa! Posted by Aurore - Renessanssimusiikkijuhlat on Mercoledì 20 gennaio 2016
Claude Rafi learned recorder and flute -making in the workshop of his father  Machaud (d. 1524) in Lyon.  The family workshop was active under Claude direction  from 1515 to 1553, the year of his death.
The brand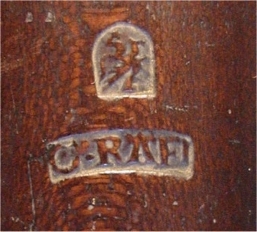 At the 
Philharmonic Academy of Bologna
 are preserved a basset recorder in F and a C  tenor at  the aproximate pitch of A = 490 Hz, both by "C.Rafi".  In the same collection  are  
nine recorders signed P. Grece
, of whom we have no information, with characteristics identical to the two Rafi instruments. In Europe,  other recorders  under the name C. Rafi are preserved in Eisenach and Sigmaringen in Germany, and Bruges in Belgium.
Audio clip: é necessario Adobe Flash Player (versione 9 o superiore) per riprodurre questa traccia audio. Scarica qui l'ultima versione. Devi inoltre avere attivato il JavaScript nel tuo browser.
Woodycock - Les Witches- Claire Michon - Rafi tenor in C (440)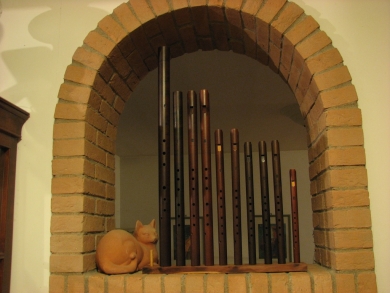 from left: basset in G, three C tenors, two altos in F, three altos in G, soprano in C
Audio clip: é necessario Adobe Flash Player (versione 9 o superiore) per riprodurre questa traccia audio. Scarica qui l'ultima versione. Devi inoltre avere attivato il JavaScript nel tuo browser.
Pederson - O che soave baccio - Les Witches - Claire Michon - Rafi tenor in D (466)
In his "Epitome Musical des tons, sons et accorded" (Lyon 1556), Philibert Jamb  de Fer,dedicates six pages to the "fluette d'Alleman" (the transverse flute) and three pages to the "fluette a neuf trouz appellé par les italiens flauto" , where we find a complete  fingering schema. The outer profile of the instruments represented in the treaty and the membership in the same city of Lyon, suggest to identify  that  the recorders described by J. de Fer were  built in the workshop of Claude Rafi.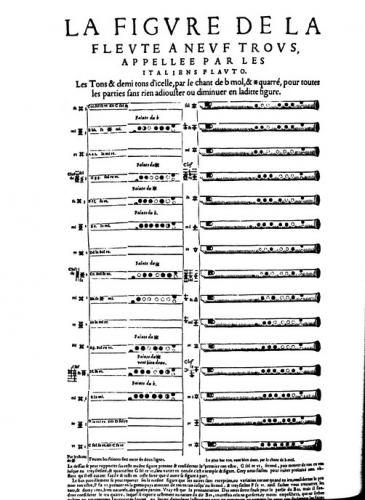 Our recorders inspired to this model can be made ​​in all sizes, from the soprano to the basset in G and F  at the pitch A= 523, 494, 466, 440 and  415 Hz.
Giovanni Bassano-Ricercata IV

Lucia Mense -bassetto in G

2:47
dolciflauti