transitional

In common use the term "transitional" identifies instruments made from the early seventeenth century until the appearance of the baroque flute (1660-1680). These typically small instruments were mostly intended for solo use, often in popular environments. They seem remote from the time of the extended recorder consorts heard in renaissance instrumental polyphony. Considering the small size of these instruments, not many examples have survived, so we need to refer to descriptions in the treatises and to the immense reservoir of figurative art.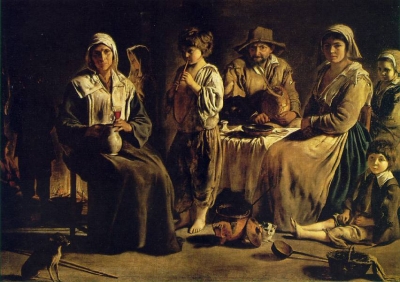 This picture, in the Museo de Louvre, was painted in Paris in 1640 by one of the Le Nain brothers (probably Louis Le Nain) whose fame is linked to depictions of the life of the French peasantry. At the centre of the scene stands the figure of the child with a recorder, confirming its role in the musical practice in the rural world.
Check availability After filling out and submitting the form below, you will be immediately be advised of the waiting time or if a suitable instrument is available from stock.
dolciflauti