I.Denner alto in F at A = 415 Hz

The German woodwind maker Jacob Denner (1681-1735) cames from a family with a long tradition of woodwind instrument-making. The family was based in Nüremberg (Germany) and were amongst the leading instrument makers in Europe. Jacob Denner made recorders, flutes, oboes and clarinets.

Johann Christoph's two sons Jacob Denner (1681-1735) and Johann David Denner (1691-1764) both learned the craft of instrument making from their father. Jacob worked for the Medici court in Florence in Spring 1708 and deliveries of instruments made by him, including clarinets (the earliest references to this instrument), are recorded from 1710 onwards.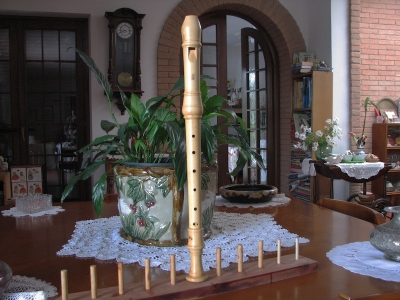 Our copy is of an original alto recorder in F belonging to the Musikhistorisk Museum in Copenhagen.
Concert presentation of the CD "Leonardo Leo- Sonate per flauto" Tommaso Rossi, recorder after I Denner
Audio clip: é necessario Adobe Flash Player (versione 9 o superiore) per riprodurre questa traccia audio. Scarica qui l'ultima versione. Devi inoltre avere attivato il JavaScript nel tuo browser.
Vivaldi - fuga da cappella - Stefano Bagliano
6-HAENDEL_sonata

Giorgio Matteoli - Haendel sonata in Fa maggiore

2:03
dolciflauti