The Van Eyck recorder

Which model was the recorder of Jakob Van Eyck   is effectively impossible to discover; the diagram in the first pages of"Fluyten Lust-Hof" shows an outside cylindrical instrument with a singular peculiarity: has disappeared the double hole to the foot, showing that it was stated the current method of supporting the instrument with the right hand down.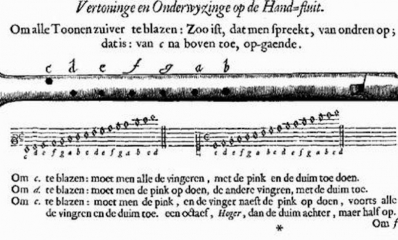 Audio clip: é necessario Adobe Flash Player (versione 9 o superiore) per riprodurre questa traccia audio. Scarica qui l'ultima versione. Devi inoltre avere attivato il JavaScript nel tuo browser.
Mr Lane's Maggot - Les Witches - Claire Michon - soprano Van Eyck
To determine the characteristics of the Van Eyck recorder it is necessary to identify the priorities imposed by the repertoire of "der Fluyten Lust-Hof". In primis agility, to facilitate speed in the execution of the variations, then the voice melodious for expressive execution of themes, and finally the facility of emission in the most acute sounds of the second octave.
We analyzed all the existing models, also derived from the few existing original, almost all of conical or cylinder-conical structure. But at the end the choice fell on a completely cylindrical instrument (which gives greater flexibility and therefore expressiveness) of small diameter that requires a gentle articulation but gives great speed  and easy to play the highest notes.
Audio clip: é necessario Adobe Flash Player (versione 9 o superiore) per riprodurre questa traccia audio. Scarica qui l'ultima versione. Devi inoltre avere attivato il JavaScript nel tuo browser.
Bravade - Les Witches - Claire Michon - soprano Van Eyck
Although the recorder represented in "der fluyten lust-hof"is a soprano in C, I decided to make in the same structure, also an alto in G, not to be used in its register, but as transposer, using the same fingering of the C instrument. Of course this model, although designed to Van Eyck, is suitable for any solo repertoire of Renaissance and seventeenth century.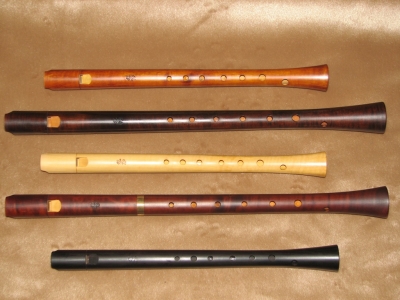 Audio clip: é necessario Adobe Flash Player (versione 9 o superiore) per riprodurre questa traccia audio. Scarica qui l'ultima versione. Devi inoltre avere attivato il JavaScript nel tuo browser.
Pavane - Les Witches - Claire Michon - alto Van Eyck
.
dolciflauti